Latest Release
 
Available on Amazon
and major online retailers
Blood Slaves Book Two
Rafe wanted more—a blood bond, with his blood slave Adam. However Adam wasn't willing to join the vampire world so he left Rafe and the vampire world behind.
Now Adam is back in town for the holidays. They can rekindle their romance in the fetish club, The Catacombs, where Adam is known as Iron Man because of his steel hardware. But what happens after a week of wild, aggressive, kinky-as-hell sex?
When it's time to return to the real world, Adam is torn. Rafe is more than a vampire, more than his lover. He's his partner. Adam isn't sure he can give up his humanity, even for the man he loves. He has to decide—a vampire blood bond or his lonely human life without Rafe.
Note: Two sexy men in a fetish club can get into a lot of kinky situations, so be prepared for anything, including all-male, multiple-partner bondage sex and orgies in very public places.
Now On Pre-Order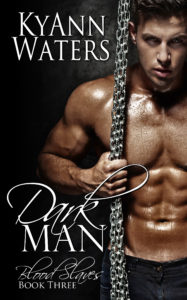 Blood Slaves Book Three
Vance is determined to discover the secrets hidden in The Catacombs, an exclusive all-male fetish club. Someone there was the last person to see his ex-lover alive and he intends to seek revenge for the brutal murder. Once in, he meets Tac, the owner of the club. He's secretive and hot as hell. The BDSM sex is unlike anything Vance has experienced. Tac is becoming an obsession and keeping him from the truth.Nothing can endanger the vampires' existence.
Theron, known in the club as Tac, will destroy any who try. He is dominant and dangerous—in total control of his world. He lives only for sex and blood. He has never been emotionally involved with anyone. Now, a human has slipped into his life and under his skin, making him want more than meaningless sex with blood slaves. But Theron will never allow a mere mortal to bring him to his knees.
Reader Advisory: This book contains scenes of smoking-hot men engaged in multiple-partner sex and bondage.