Coming Soon
 
Coming Soon To Amazon
and major online retailers
The world is waiting for her…and he's waited long enough.
Meg Snow is having hot and wild sex with Cory Traven…in her dreams.
Four years ago he had his chance for a relationship with her. Instead, he joined the military, leaving her to endure Milcott, South Dakota, on her own. Now it's her turn for adventure and a chance to banish those erotic Cory fantasies once and for all—on a singles cruise to Jamaica.
Cory has come home for what he denied himself four years before. Meg. But she's made it clear she wants anyone except him. There's only one way to show her that what she wants and what she needs are two different things. How? Storm the beaches of Jamaica. Infiltrate his way into her bed. Breach the walls of her heart.
And show her that paradise is not in the Caribbean, but in his arms.
Warning: This title contains scorching sex on the beach, in the shower, in bed, and against a wall. A hot hero with a wicked tongue who goes after what he wants and a heroine who gives it to him…again, and again and again.
Available Now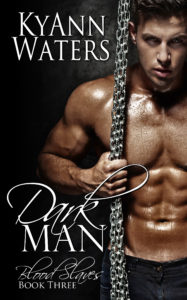 Blood Slaves Book Three
Vance is determined to discover the secrets hidden in The Catacombs, an exclusive all-male fetish club. Someone there was the last person to see his ex-lover alive and he intends to seek revenge for the brutal murder. Once in, he meets Tac, the owner of the club. He's secretive and hot as hell. The BDSM sex is unlike anything Vance has experienced. Tac is becoming an obsession and keeping him from the truth.Nothing can endanger the vampires' existence.
Theron, known in the club as Tac, will destroy any who try. He is dominant and dangerous—in total control of his world. He lives only for sex and blood. He has never been emotionally involved with anyone. Now, a human has slipped into his life and under his skin, making him want more than meaningless sex with blood slaves. But Theron will never allow a mere mortal to bring him to his knees.
Reader Advisory: This book contains scenes of smoking-hot men engaged in multiple-partner sex and bondage.